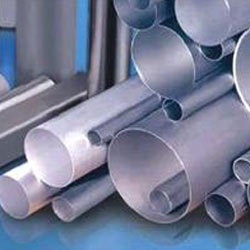 Nickel 200 and 201
Nickel 200 and Nickel 201 are solid solution strengthened, commercially pure wrought materials with good mechanical properties over a wide range of temperatures and excellent resistance to many corrosives, in particular hydroxides. Nickel 201 was a modification of 200 to control carbon (.02 max) which keeps it from being embrittled by intergranular precipitates at temperatures of 600° F to 1400° F in many processes. Typically, the elemental restrictions of both, nickel 200 and nickel 201, are combined into one, dual-certified chemistry resulting in a single alloy with the desired characteristics of both alloys, Nickel 200/201.
What are the Characteristics of Nickel 200/201?
Highly resistant to various reducing chemicals
Excellent resistance to caustic alkalies
High electrical conductivity
Excellent corrosion resistance to distilled and natural waters
Resistance to neutral and alkaline salt solutions
Excellent resistance to dry fluorine
Widely used to handle caustic soda
Good thermal, electrical and magnetostrictive properties
Offers some resistance to hydrochloric and sulfuric acids at modest temperatures and concentrations
Fabrication with Nickel 200/201
All hot working and cold working practices can be utilized when shaping Nickel 200/201. Hot working temperatures should be between 1200° F and 2250° F with heavy forming to be performed at temperatures above 1600° F. Annealing should be performed at a temperature between 1300° F and 1600° F. Care should be taken when choosing the anneal temperature and time at temperature for this can greatly influence the mechanical properties and structure of the material.
In what forms is Nickel 200/201 available?
Sheet
Plate
Bar
Pipe & Tube (welded & seamless)
Fittings (i.e. flanges, slip-ons, blinds, weld-necks, lapjoints, long welding necks, socket welds, elbows, tees, stub-ends, returns, caps, crosses, reducers, and pipe nipples)
Wire
Specifications of Nickel 200/201
Pipe Seamless - B161
Pipe Welded - B622
Tube Seamless - B161
Tube Welded - B622
Sheet/Plate - B162
Bar - B160
Fitting - B163
Product Range
Below are listed Nickel 200/201 products in all Grades
Nickel 200/201 Plate/Plates
Nickel 200/201 Coil/Coils
Nickel 200/201 Sheet/Sheets
Nickel 200/201 Flat/Flats

Nickel 200/201 Pipe/Pipes

Nickel 200/201 Seamless Pipe/Pipes
Nickel 200/201 ERW Pipe/Pipes
Nickel 200/201 Welded Pipe/Pipes
Nickel 200/201 Butt-weld Fittings

Nickel 200/201 Socket-weld Fittings

Nickel 200/201 Flanges

Nickel 200/201 Elbow

Nickel 200/201 Reducer

Nickel 200/201 Tee

Nickel 200/201 Stub-end

Nickel 200/201 Concentric Reducer
Nickel 200/201 Eccentric Reducer
Nickel 200/201 Forged Fittings

Nickel 200/201 Round Bar
Nickel 200/201 Hollow Section

Nickel 200/201 Angle/Angles
Nickel 200/201 Channel/Channels
Nickel 200/201 Beam/Beams
Nickel 200/201 Fasteners
Nickel 200/201 Blind Flanges

Nickel 200/201 Slip-on Flanges

Nickel 200/201 Weld neck Flanges
Nickel 200/201 Seamless Fittings